Hello peeps!
If you're still around reading this lovely little blog, thanks!
I know I've been an awful blogger this summer (or a nonexistent one)! I promise, I do have a plan to be better this year! To start off this better blogging year, I'm linking up with Farley at Oh Boy, 4th Grade for the first Currently of the school year.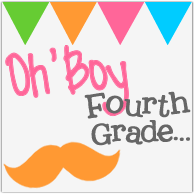 As well, I have a couple of posts coming up...my slant box reveal (if you haven't seen the pictures on instagram yet) and a blog award I was given (yay)!
Listening: I admit, I'm a sucker for some reality TV. Other than Big Brother, one of my faves is The Great Food Truck Race on Food Network. Also, Cutthroat Kitchen. :)
Loving: I'm glad that Hubs and I got to spend some time together this weekend, before things get extra crazy, even though part of it was me getting very angry at the computer for not printing my labels properly!
Thinking?Wanting: Two sides of the same thing: Thinking about all the stuff that I'm sure I'm forgetting, or needing to plan, or wanting to do before school starts "for realsies" on Thursday.
Needing: My poor Hubs is so done with all the "kindercrap" :) that is in my living room. So I need to get some of it out and my house back to normal.
and for me: Even though things are super stressful with another grade level change, and teaching gym part-time, I really want to work on a balance, and not be worried and focused just on school this year. The second one is a fitness goal for myself. Years ago, when I was finishing up my first university degree, I spent part of a summer in Quebec City doing a French program. Since we flew there, we didn't have a car for the six weeks we were there, so we walked everywhere. I lost so much weight without even trying. I would love to be able to get back into walking (and, as a plus, doggie gets more exercise, too)!
Well, that's it for me. I'll be back later this week with my slant box reveal and first day of school pics!
Have a great (what's left of) Labour Day Weekend, everybody!